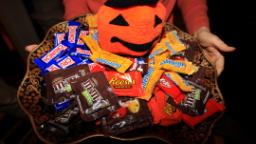 If you're sitting in front of an empty trick-or-treating bag full of candy wrappers with a disgraceful look of contentment on your face, the environmental rubbish you're throwing those wrappers into probably won't be at your disposal. Top of the list of things to consider, but they probably deserve a place somewhere.
Research shows that most of the wrapping paper for the 600 million pounds of candy purchased in the U.S. each Halloween season ends up in landfills due to inadequate curbside recycling programs. Mars Wrigley — the giant behind candy bag staples like Twix, Snickers, M&M's, and Skittles — is now offering a solution to this Halloween's trash problem.
Mars has partnered with digital waste and recycling solutions company Rubicon Technologies to tackle packaging waste with specially designed recyclable trick-or-treating bags. As an extension of Rubicon's existing Trick-or-Trash program, the collaboration will provide Halloween fans with these bags for free.
Each bag comes with prepaid stamps and easy three-step instructions: Use it to collect your Halloween candy. Once you're done eating your candy (it won't take long if you're like us), put all the empty wrappers back in the bag. Then seal the bag full of wrapping paper, put it in a USPS box or the post office, and send it off for proper recycling for future use.
Featuring an attractive candy-covered design, the bag itself is made from renewable, virgin, recyclable bioplastic.
"Mars and our iconic line of brands put consumers at the heart of everything we do, especially during our most important moments like Halloween," Tim Lebel, Mars Wrigley's chief Halloween officer and president of sales, said in a news release Published at the meeting. "This year, our Halloween leadership underscores Mars' commitment to a healthy planet by providing an easy way to minimize packaging waste with Mars and Rubicon Trick or Trash bags."
Nate Morris, chairman and CEO of Rubicon, said his company shares Mars' commitment to sustainable solutions. "We know that working with a variety of partners across industries is critical to avoiding as much landfill as possible, and we're proud to partner with Mars, a global leader in the Halloween season and a strong commitment to protecting us The company. The environment," Morris added.
So how can you get one of these free recycling bags so you can foresee your virtue even as you surround yourself with countless bite-sized chocolate bars? The first Trick or Trash bags went online in early October and sold out within a day. A second drop earlier this week sold out in less than an hour. But fear not! A spokesperson for Mars Wrigley told Food Network the company is preparing to drop another batch of bags on Thursday, October 27. yes…sweet!
The exact time hasn't been announced, so if you want to get your hands on the free pack, be sure to keep checking out Halloween.Mars.com.