A Belgian TikToker faked his own death to find out who cared, then showed up at his own funeral.
David Baerten, 45, and his wife and children decided to prank friends and family to find out what they really thought of him.
To spread the news of Mr Baerten's death, one of his children took to social media to mourn her father.
She wrote: "Rest in peace Daddy. I will never stop thinking of you.
"Why is life so unfair? Why you? You're going to be a grandpa, but your whole life is still waiting for you.
"I love you! We love you! We will never forget you."
The funeral was held near the city of Liege last weekend and was attended by many friends and family members dressed in black.
Everyone was waiting for the ceremony to begin, but instead they were greeted by a helicopter that landed.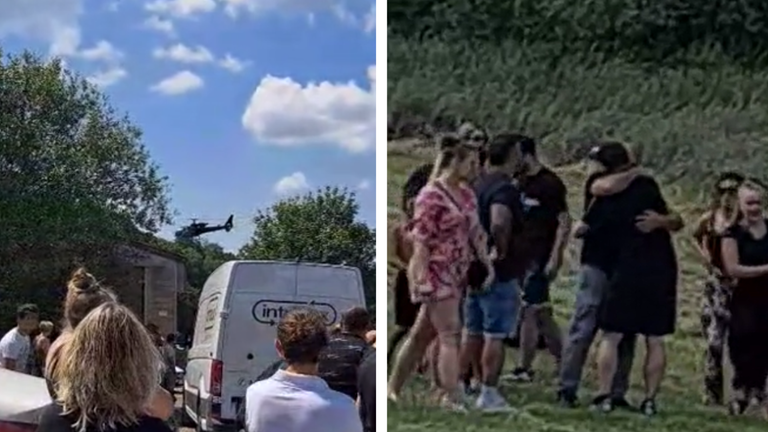 in the posted video Tik Tok At a funeral, Mr Baerten stepped out of a helicopter with a camera crew before being greeted by mourners.
Some of Mr Baerten's family and friends can be seen running towards him in the emotional exchange, while others remain confused and confused in the car park.
Read more from Sky News:
TikTok sues Montana after U.S. bans Chinese-owned video app
Thousands of Neighborhoods Going Black — Here's Why
According to The Times, the TikToker said he faked his death to see how his family would react and said he felt they had "underestimated" him.
He added: "What I saw in my family hurt me a lot and I was never invited to anything. Nobody saw me.
"We were all alienated. I felt unappreciated.
"That's why I wanted to give them a life lesson and tell them you shouldn't wait until someone is dead to meet them."
Mr Baerten, also known as Ragnar le Fou on TikTok, claimed that some relatives had been contacting him since the prank, adding that it "proves who really cares about me. Those who didn't come did contact me to meet. So in a certain In a way, I did win."