Nancy Pelosi has said she will not run for House Democratic leadership again after nearly 20 years as House Democratic leader.
The veteran politician lost his speakership after Republicans took control of the House of Representatives in the recent midterm elections.
Despite saying she would be stepping down from a position she has held since 2004, Mrs Pelosi said she would continue to represent San Francisco in the House, as she has done for 35 years.
The 82-year-old served as speaker twice during her tenure in Congress and became the first woman to hold the post when she was elected in 2007.
She revealed her decision in a speech on the House floor on Thursday, cheered by her fellow Democrats who must now elect a new leader.
The most likely candidate to replace Mrs Pelosi as Democratic leader is Rep. Hakeem Jeffries of New York.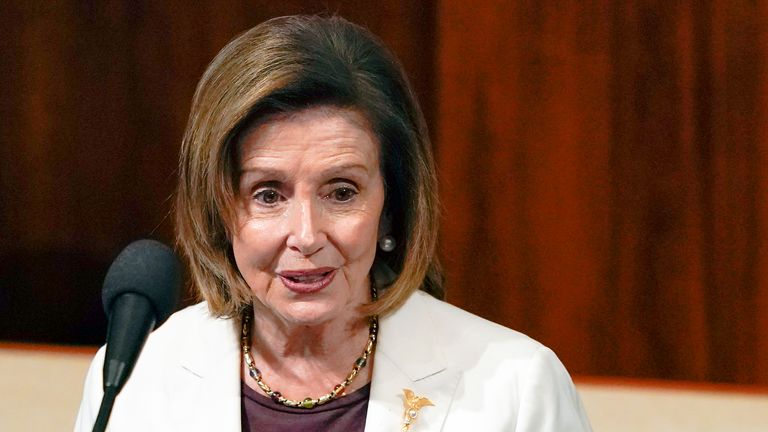 Now that they have a majority, House Republican leader Kevin McCarthy could become speaker of the House when the new Congress is sworn in on Jan. 3.
During her speech, she recalled her first visit to the Capitol as a child when her father was sworn in as a member of Congress.
She described the House of Representatives as a "sacred place" and called it "the heart of American democracy."
Referring to last year's attack on the Capitol, Pelosi said: "American democracy is majestic, but it is fragile. Many of us here have witnessed our fragility, tragically, in this chamber. Therefore , democracy must always be defended against those who wish it harm."
She also noted that the number of women serving in the House has increased since she first joined it, and thanked her family and staff.
"A new day is coming," she added.
Pelosi was first elected to the House in a special election and steadily rose through the ranks, securing leadership
before winning her first term as a speaker in 2007.
She first served as speaker from 2007 to 2011, when Democrats led opposition to the Iraq war to gain control of the House.
She became speaker again in 2019, when Democrats turned a tide against Trump, won control of the House, and was re-elected in November 2021.