Multiple people were killed and several others were injured in a shooting at a Walmart store in Virginia, police said.
Police were called to the incident shortly after 10 p.m. local time in Chesapeake City, spokesman Leo Kosinski said.
"Chesapeake Police confirm a shooting at Walmart on Sam's Circle. The shooter is dead. The shooter is dead," the city of Chesapeake tweeted.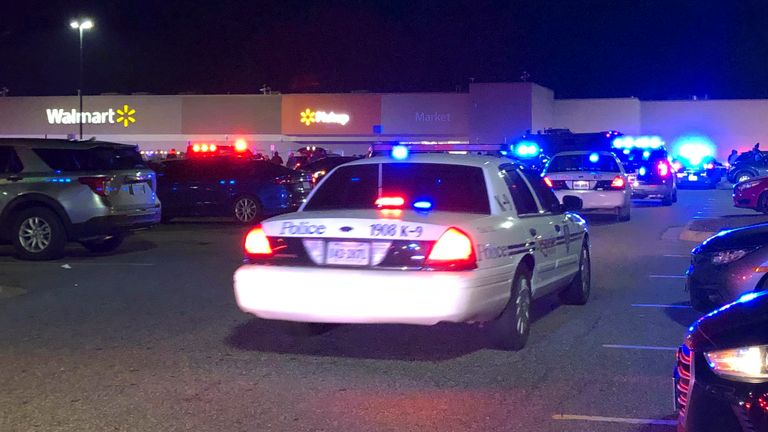 The death toll was unclear, but Mr Kosinski said "less than 10 people" had died.
Senator Louise Lucas tweeted: "Deeply saddened that the latest mass shooting in the United States occurred tonight at a Walmart in my area in Chesapeake, Virginia.
"I will not rest until we find a solution to end our nation's epidemic of gun violence that has claimed so many lives."
Many people were also injured and five victims were reportedly being treated at Sentara Norfolk General Hospital in the nearby city of Norfolk.
Mr. Kosinski said police believed the shooting took place inside the store, but one person was found dead outside the building.
It was not immediately clear whether the gunman died of self-harm.
Mr Kosinski added that "to the best of his knowledge" no one fired at the police.
read more:
There have been mass shootings elsewhere — but America's gun problem is unique
The City of Chesapeake's Twitter account tweeted: "A family reunion site has been set up at the Chesapeake Convention Center (700 Conference Center Drive). This site is only for immediate family or people who may be in the building emergency contacts to use."
Senator Mark Warner tweeted: "Disgusted by reports of yet another mass shooting, this time at a Chesapeake Walmart. I will be monitoring developments closely."
Walmart said it was "appalled" by the incident at its stores.
The company tweeted: "We are appalled by this tragic incident at our Chesapeake store in Virginia. Our prayers go out to those affected, the community and our employees. We are working closely with law enforcement, We are focused on supporting our employees"
The Chesapeake Walmart is a "supercenter," meaning it sells groceries and other products. There are more than 3,500 Walmart Supercenters in the United States.