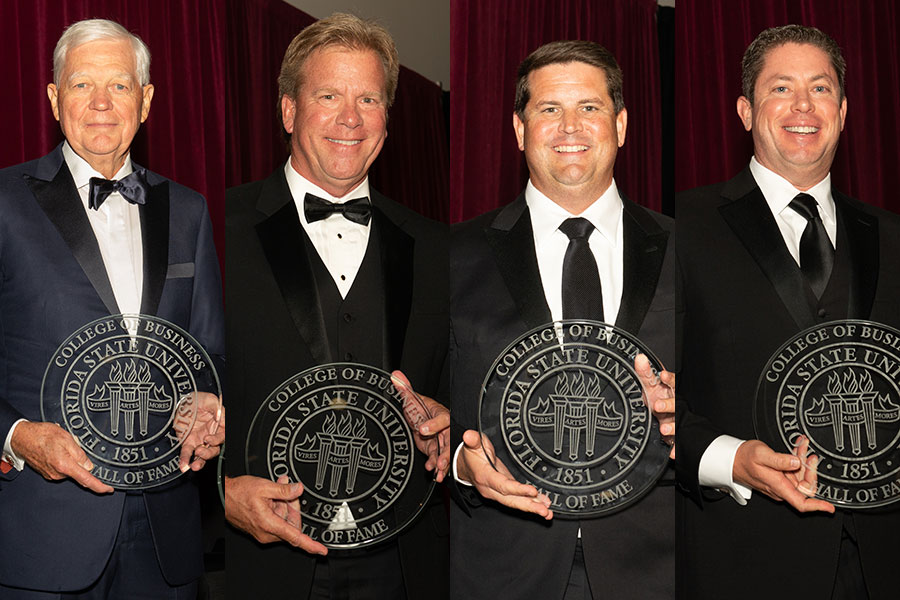 Florida State University's School of Business welcomed four new members to its Alumni Hall of Fame on Thursday.
University alumni Jim Henderson, Brett Lindquist, Brian Murphy and Scott Price were honored at a ceremony at the FSU Student Union in Tallahassee. This recognition showcases alumni who have excelled in their careers and made a significant impact in the community, FSU and the School of Business.
The new inductees bring the Alumni Hall of Fame membership to 62 since its inception in 2003.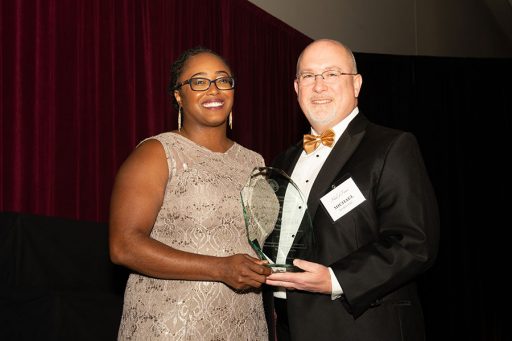 "Like their previous 58 Alumni Hall of Fame inductees, these individuals have demonstrated extraordinary energy, integrity, leadership and achievement — and we strive to instill in students and each other the hallmarks of the business school," Dean Michael Ha Michael Hartline says or business.
Also at the ceremony Thursday night, Tallahassee-based business leader Christina Lynch was named the recipient of the 2022 Business School's Recent Alumni Achievement Award. Lynch is the founder and CEO of Trydent Consulting and an award-winning consultant who advocates a holistic approach to helping clients build companies.
Lynch graduated in 2011 with a BA in Accounting and Finance and a BA in Human Resource Management. Her firm, Trydent Consulting, assists small businesses in specialized areas such as management accounting, financial management, business management, marketing, human resources and exit planning.
FSU's new Business School Alumni Hall of Fame inductees are:
Jim Henderson (BS Accounting & Economics '69)
Henderson is a proven company builder who quickly transformed Orlando-based AssuredPartners into one of the nation's top insurance brokerages. He graduated from FSU in 1969 with degrees in accounting and economics.
Henderson serves as Chairman and Chief Executive Officer of AssuredPartners, a 7,500-person company with annual revenues in excess of $1.3 billion and offices in North America and Europe.
He co-founded the company in 2011, and a decade later it was number one. Ranked #5 national property/casualty agency according to Insurance Magazine's 2021 rankings.Also last year, commercial insurance ranked it 11thth America's largest broker.
He began his career as a CPA with Ernst & Young's Audit and Healthcare practice, which merged with Arthur Young to become Ernst & Young today. He also served as Chief Financial Officer and Treasurer of Ormond Reinsurance Group.
Throughout his career, Henderson has maintained staunch support for his alma mater, including serving on the university's board of trustees and chairing the finance and business committees.
He recently donated $500,000 to name the Jim Henderson/AssuredPartners Master Classroom the Academy's future home, Legacy Hall. Donated $500,000 in 2019 to create the Jim Henderson/AssuredPartners classroom, also located in Legacy Hall. In addition, he and his wife, Carroll, remain major financial supporters of FSU athletics.
Brett Lindquist (BS Finance and Real Estate '83)
Lindquist, a four-year leader in real estate financing, built Central Florida-based The Mortgage Firm into a premier residential lender in the United States. He graduated from FSU in 1983 with degrees in Finance and Real Estate.
He is CEO of The Mortgage Firm, which has 700 employees and 60 locations in the Southeast and is licensed to operate in 30 states and the District of Columbia. The company completed more than $3.5 billion in home loans last year.Mortgage companies also Received a 4.91 star rating from the report 5 out of 30,000 customer reviews on experience management software provider SocialSurvey.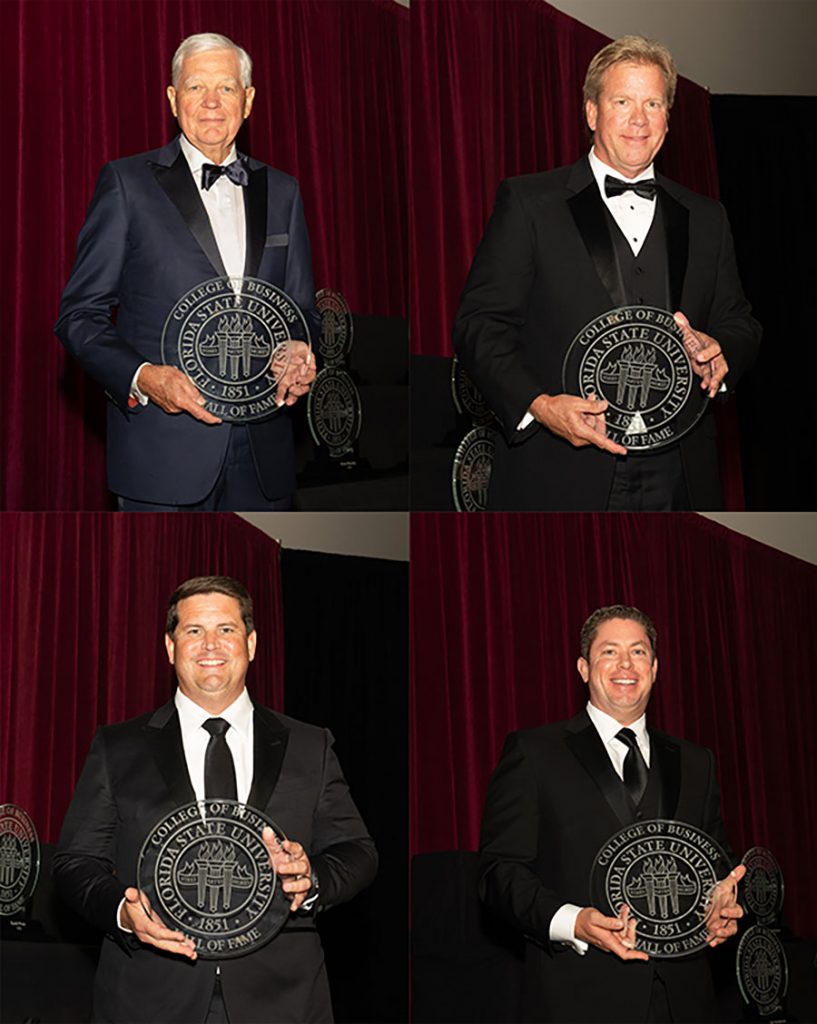 Lindquist also chairs the College of Business Council, a position in which he emphasized fundraising and the construction of Legacy Hall, the college's new display facility and Home of the Future.
Lindquist and his wife, Cindy, an original member of the FSU Golden Girls Dance Team, established seven gifts at the Academy, including the Lindquist Endowment Real Estate Scholarship Fund, the Lindquist Endowment for Real Estate Excellence and the Lindquist Endowment Professional Sales Scholarship Fund. They also gave a Gift, created the Brett C. and Cynthia R. Lindquist classrooms in Legacy Hall.
Brian Murphy (BS Accounting and Finance '00)
Murphy is a nationally recognized business leader who founded and built ReliaQuest, a Tampa-based cybersecurity provider, into one of the world's most successful private companies.
Murphy graduated from FSU in 2000 with a degree in Accounting and Finance and has built ReliaQuest into a global company of over 1,000 employees with offices in the US, UK, Ireland, India and the Netherlands, valued at over $1 billion The latter made his company a unicorn, a name for a private company with that kind of valuation — a rarity in the world.
He serves on the College of Business Council and the Seminole Booster Board of Directors. In 2017, he was the keynote speaker at the FSU Spring Commencement Ceremony.
He remains a major supporter of the college and university, creating the ReliaQuest Analytics Teaching Lab both personally and through ReliaQuest at Legacy Hall, the college's future home, and serving as the lead sponsor of the FSU College of Sales International Collegiate Sales Competition.
Scott Price (BS and MAcc '97)
Price is the founder and CEO of A-LIGN, which has 565 employees worldwide; offices in Tampa; Denver; Sofia, Bulgaria and Panama City, Panama; and more than 3,500 global customers including Alloy, Sprint and Raymond James .
The industry continues to focus on the company's growth. Since 2017, A-LIGN has appeared multiple times on Inc.'s annual list of the 5,000 Fastest-Growing Private Companies in the United States, where it ranks first. Ranked 146th in the Southeast on the publication's 2022 regional list. It's also on the Tampa Bay Business Journal's newest Fast 50 list.
In February, the Seminole 100 For the fifth year in a row, A-LIGN has been named one of the fastest growing companies owned or led by Florida State University graduates.
The company's culture was also recognized, ranking first. Ranked #12 on Consulting Magazine's recent Best Small Companies to Work For. He was also named a Managing Partner Elite by Accounting Today, an online business news provider, and a 2021 finalist for Florida Entrepreneur of the Year by Ernst & Young.
He remains an active and supportive FSU alumnus, including serving as chair of the Accounting Department's Professional Advisory Committee, which he has chaired since 2017.
In July, Price donated $2.7 million to support Legacy Hall, the college's home of the future, and help build the future of the college's students. The gift includes $2 million to create the Scott G. Price and Family Endowed Scholarship in Accounting, which will fund the Scott G. Price Accounting Scholars Program. The gift also includes $700,000 to upgrade from a named classroom to named Scott G. Price and the Family Forum Staircase, a showcase seating area in Legacy Hall.