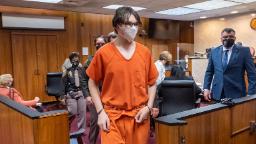 CNN
—

A teenager accused of killing four students and wounding seven at a Michigan high school last year is expected to plead guilty to murder charges on Monday, prosecutors said.
Ethan Crabley will plead guilty to all 24 charges, including one count of terrorism-related death and four counts of first-degree murder, for the Nov. 30 shooting at Oxford High School, according to the prosecutor's office. four students.
Crabley, who was 15 at the time of the shooting, had previously pleaded not guilty to the charges but is expected to change his plea at a hearing in Oakland County Circuit Court.
Crabley will not receive a plea deal, according to Oakland County Assistant Attorney General David Williams.
CNN has reached out to Crabley's attorney for comment.
The teenager's parents, Jennifer and James Crabley, have each been charged with four counts of involuntary manslaughter related to the shooting after prosecutors accused them of making the gun easy for their son and before the shooting. Ignoring him is a sign of a threat.
Prosecutors argued that Jennifer and James Crabley played "a bigger role than just buying a gun for their son," and that parents could do a lot more than simply lock up their guns to prevent the tragedy.
The parents have pleaded not guilty, and their lawyers have argued in court documents that the charges have no legal basis and that the couple should not be held responsible for the killings their son is accused of committing.
The parents' trial was scheduled to begin on Monday, but was delayed until January last month. Meanwhile, Jennifer and James Crabley remain in the county jail.
Prosecutors say James Crabley purchased the gun used in the shooting four days before the fatal attack.
During the teenager's arraignment, prosecutors described Ethan Crumbley as "methodically and deliberately" walking down the hallway and, after emerging from the school bathroom with a gun, aimed it at students and shot them at close range.
Students and teachers rely on the strategies they learn in active shooting training to protect themselves. When gunfire rang out, the frightened students blocked the door, turned off the lights, and called for help. Some kids arm themselves with scissors in case they need to fight back.
Four students died that day: Madisyn Baldwin, 17; Tatemeier, 16; Hannah Street Juliana, 14; and Justin Shilling, 17. Six other students and a teacher were injured.