Elon Musk said Twitter had implemented a temporary daily reading limit to address "extreme levels" of data scraping and system manipulation.
In a tweet, musk It said verified accounts had been temporarily limited to reading 6,000 posts per day.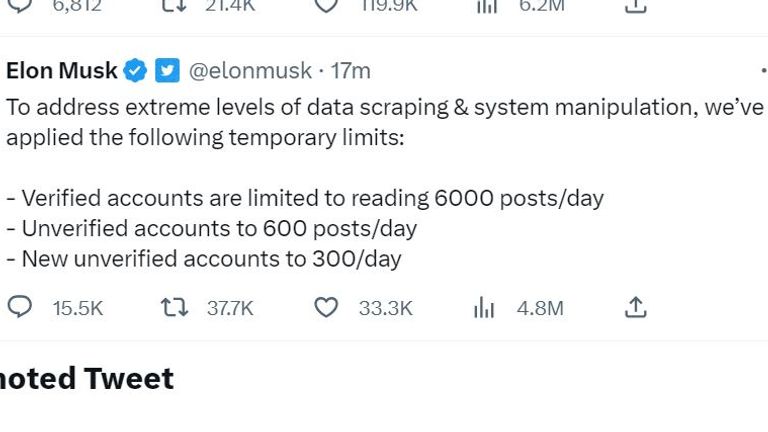 Unverified Twitter Accounts are limited to 600 posts per day, and new, unverified accounts are limited to 300 posts per day.
RIP Twitter and #Twitterdown started trending on the social media site after some users reported seeing a message saying "rate limit exceeded" on Saturday.
Musk, who is also chief executive of Tesla and SpaceX, has not said how long the temporary restrictions will last.
According to data from problem and outage monitoring website DownDetector, people started reporting problems shortly after midday UK time. As of 6 p.m., the site had received thousands of reports.
The move comes after Twitter announced it would require users to have an account on the social media platform to view tweets, a move Musk on Friday called a "temporary emergency measure."
The billionaire completed a $44bn (£35bn) acquisition of the social media site in October 2022 and launched a payment system for "blue ticks", or verified accounts, in April.
read more:
Twitter Gives Gold to Fake Disney Accounts
Elon Musk says his dog is now Twitter's CEO
Who is Linda Yacarino?
Linda Yaccarino, then an NBCUniversal executive, was announced as Twitter's new chief executive in May, and Musk, 52, said he would serve as executive chairman.
Since the acquisition, Twitter has slashed costs and laid off thousands of employees, including many who worked on preventing harmful and illegal content, protecting election integrity and providing accurate information on the site.