CNN
—

A 5.6-magnitude earthquake struck Indonesia's West Java province on Monday, killing at least 46 people, according to the country's National Disaster Management Agency (BNPB).
Another 700 were injured, according to BNPB chief Maj. Gen. Suharyanto.
The quake struck in the Cianjur district of West Java province at a depth of 10 kilometers (6.2 miles), according to the United States Geological Survey (USGS).
Four schools and 52 houses were either collapsed or badly damaged, according to the BNPB local office in Cianjur district. A mosque and a hospital were also damaged, according to the office.
The BNPB said there was no risk of a tsunami, Reuters reported.
Zhanjur government official Herman Sukhman told the media that some residents were trapped in the rubble of the collapsed building. News channel Metro TV showed what appeared to be hundreds of victims being treated in a hospital parking lot.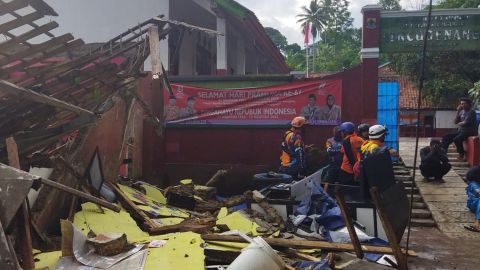 An Islamic boarding school was also damaged, it said, while communications were disrupted by a power outage.
Television footage showed residents huddled outside the building, which was almost completely in ruins, according to Reuters.
One man, Muchlis, said he felt "huge shaking" and damaged the walls and ceiling of his office.
"I'm in total shock. I'm afraid there's going to be another earthquake," Muchilis told Metro TV.
The BMKG warned of the danger of landslides, especially if there was heavy rain, as 25 aftershocks occurred within two hours of the quake.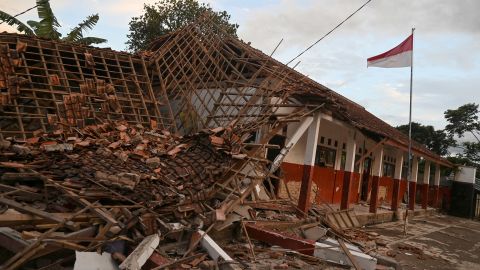 Indonesia sits on the Pacific Rim's "volcanic belt," which is often triggered by earthquakes and volcanic activity. It is one of the most seismically active regions on Earth, stretching from Japan and Indonesia on one side of the Pacific Ocean to California and South America on the other.
In 2004, a 9.1-magnitude earthquake occurred off the coast of Sumatra in northern Indonesia, triggering a tsunami that affected 14 countries and killed 226,000 people along the coast of the Indian Ocean, more than half of whom were in Indonesia.